Good morning! Here's a very simple, "semi-homemade" recipe for Almond Cupcakes with Vanilla-Almond Buttercream.  This is a recipe from my Mom's collection that she makes as a bunt cake for every holiday. It's such a light, fluffy cake that's great in the morning with your coffee or add a little buttercream and serve as a dessert. I love how its base is a box cake because you can whip it up in no time at all.  I used beautiful baking cups that were a gift from my dear friend E, and used the amazing cake stand from my brother. Beautiful right?! Such a light, amazing cake perfectly complimented by the buttercream.
Almond Cupcakes with Vanilla-Almond Buttercream
Ingredients
Cupcakes

1 package Duncan Hines Golden Recipe Cake Mix (or Butter Golden Cake mix)
1 package 8 oz. cream cheese
4 large eggs
½ cup water
½ cup vegetable oil
½ cup sugar
1 teaspoon pure vanilla extract
1 teaspoon pure almond extract
Frosting

1 cup (2 sticks) butter
3 ½ cups confectioners' sugar
½ teaspoon vanilla extract
1 teaspoon almond extract
2 tablespoons water
Preheat oven to 350°. Line muffin tin with paper liners.
Place cake mix, cream cheese, eggs, water, oil, sugar, vanilla and almond extract in large mixing bowl.
Blend with an electric mixer on low speed for one minute.
Stop and scrape sides of bowl with spatula. Increase mixer to medium speed and beat for two more minutes.
Fill muffin tins ¾ full (if using tall baking cups like the pink ones in these photos, fill halfway)
Bake for 15-18 minutes or until a toothpick is inserted in center and comes out clean.
For the frosting: cream butter until smooth (about two minutes). Gradually add confectioners' sugar. Add vanilla and almond extract and two tablespoons of water. Beat on medium speed for 5 minutes to make light and fluffy. I added a little yellow food coloring to make the frosting a pretty, light yellow.
(To turn this recipe into a bunt cake, grease pan and sprinkle with flour. Bake for 35-40 minutes and let stand in bunt pan on wire rack for 20 minutes)
http://just-a-sliver.com/almondcupcakes/
Link Parties!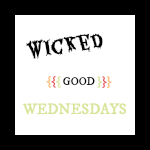 AND….
I was featured!